A new edition of The Intellectual Devotional, this time with a focus on American History, is now available in stores. (Click here to order your copy.) As well as continuing to expand on posts from the General Edition, "The Devoted Intellect" blog will introduce and expand on material from the American History devotional. Today's entry on "John Smith" draws from the new book's "Politics & Leadership" section.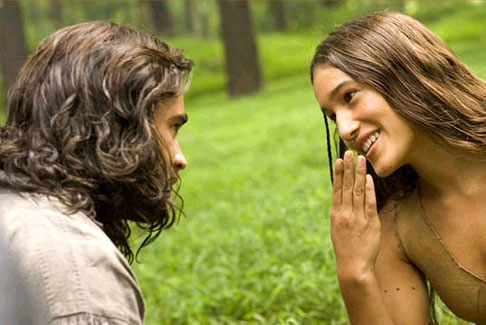 Though he was one of the most important leaders of the Jamestown settlement, a mercenary who had fought in numerous European wars, and an unlucky prisoner who had been sold into slavery to the Ottoman Empire (from which he escaped), John Smith is perhaps best known today for his connection to Pocahontas, the young daughter of a powerful Powhatan chief. The history is disputed, but the myth is a firmly entrenched part of American life and popular culture.
The most recent depiction of the relationship between John Smith and Pocahontas is the 2005 film The New World. It is the fourth film by the American director Terrence Malick, who directed two classic works in the 1970′s – Badlands and Days of Heaven – before descending into a self-imposed obscurity, coming back to the screen with his 1998 film The Thin Red Line. The film focuses on the story of Pocahontas, and her transformation from an Indian princess living with a direct relationship to nature to an English gentlewoman with a keen sense of social propriety. The theme is handled quite beautifully, particularly because Malick never favors nature of society or vice versa: the naked American countryside and a manicured English garden are depicted as equally majestic.
If you'd like to see the film for yourself, click here to order a copy.