A new edition of The Intellectual Devotional, this time with a focus on American History, will be available online and in stores tomorrow. (Click here to order your copy.) As well as continuing to expand on posts from the General Edition, "The Devoted Intellect" blog will introduce and expand on material from the American History devotional. Today's entry on "Pueblo Civilization" draws from the new book's "Building America" section.
Five thousand years ago, a star billions of miles from Earth exploded. This phenomenon, known as a "supernova," is among the most spectacular events in the universe. Because the star is so far away, what we see when we look at the "Crab Nebula" (above) through a telescope today is what it looked like 4000 years ago. But 1000 years ago, when the image of that first celestial explosion reached the Earth, it was a far brighter thing (in a far darker night sky without the slightest hint of "light pollution"). Astronomers in China and Japan noted an extremely bright "guest star" that came and soon dimmed. And the Chaco people of what is today the Southwestern United States may have noted its first appearance in a remarkable stone drawing.
The supernova we refer to today as the "Crab Nebula" first appeared in the night sky on July 4, 1054. Around this time, somebody put three drawings on a cliff side of the Chaco canyon: a hand, a moon, and a star. When the moon is in the position pointed to by the hand, (a phenomena that occurred on July 4, 1054, and every 18 and a half years thereafter), the "Crab Nebula" is exactly above the spot where the star is drawn into the cliff. It could be a coincidence, but these simple drawings may in fact be a complex astronomical diagram.
To read more about the "1054 Supernova Petrograph," click here.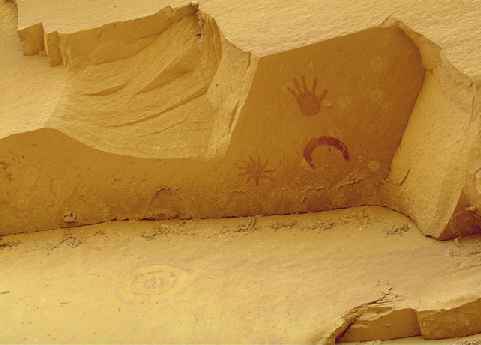 Leave a Reply
You must be logged in to post a comment.