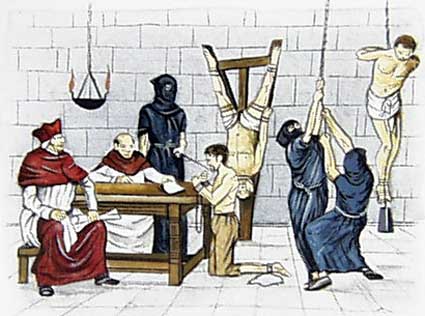 In those rare moments during which it is possible to suspend our acute consciousness of the suffering and bloodshed sprayed all over the pages of human history, the realization dawns that Dame Clio, up there on her Parnassian heights, possesses a highly developed sense of irony. While the voyage of the Titanic may just take the cake for demented poetic justice, we should not ignore the curious heritage of Tomás de Torquemada.
The Dominican friar, who rose to prominence as the Confessor of Queen Isabella, was the first Inquisitor General of the legendarily cruel Spanish Inquisition and the mastermind behind what many consider to be the first modern attempt at genocide. Under his guidance, the crown promulgated the Alhambra Decree, which formally expelled all Jews from Spain in 1492, and, as Inquisitor General, Torquemada devoted his energy to rooting out "heresy" on a national scale. Effectively, this translated into the persecution, dispossession, torture, and execution (by fire) of large sections of the converso, or newly Christian, population on charges of "crypto-Judaism."
Beginning to see where this is going? Torquemada would have done well to take a closer look in the mirror—Fate has read her Freud. The Inquisitor's grandmother was, of course, a Jewish convert. Mel Brooks may have put it best: "Auto de fe, what's an auto de fe? It's what you oughtn't to do but you do anyway."



Leave a Reply
You must be logged in to post a comment.