With all the discussion of the fact that a potato blight led to the death of nearly one quarter of Ireland's population in the mid-18th century, a major question remains unanswered: what did the Irish do with all of those potatoes before the famine? Below, selected spud specialties of pre-famine Eire.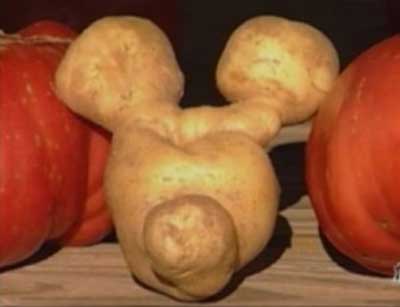 Irish Potato Soup

Ingredients:
2 lb. potatoes (6 medium potatoes)
1 tbs. butter
6 cups skim milk or a mixture of whole milk and water
chopped chives or parsley
2 medium sized onions or leeks
1 cup light cream
6 strips bacon, crisply fried and crumbled (optional)
salt and pepper to taste
Steps:
1) Peel and slice potatoes. Peel and slice onions.
2) Melt butter in a saucepan. Add the onions (or leeks) and cook gently until soft.
3) Add potatoes and season to taste. Stir.
4) Add milk or milk water mixture. Cover the saucepan. Cook over low heat one hour.
5) Prepare bacon.
6) Puree potato-onion mix in a blender. Add cream and reheat.
7) Serve sprinkled with chopped chives or parsley and bacon.
Boxty Pancakes
Boxty pancakes are a traditional Irish potato dish served on the eve of All Saints' Day, Halloween. Boxty also can
be baked as a kind of potato bread.
Ingredients:
1 cup raw potatoes
1 cup mashed potatoes
2 cups plain flour
1 tsp. baking powder
1 tsp. salt
large knob of butter, melted
1/2 cup of milk
Steps:
1) Peel and grate potatoes. Drain liquid. Separate fluid from starch. Mix starch with grated and mashed pota-
toes.
2) Mix grated potatoes, mashed potatoes, flour, salt, melted butter or margarine, baking powder, and milk to
make a thick batter that will still pour.
3) Lightly oil a frying pan. Spoon mixture on the pan. Cook both sides over a moderate heat.
4) Serve with butter or sprinkled with sugar.
Colcannon (Potato and Cabbage Casserole)
Ingredients:
1 lb. potatoes (3 medium potatoes)
4 cups water
1 lb. green cabbage (1/2 medium head)
1 large onion
1/4 cup skim milk
1 tbs. butter or margarine
salt and pepper to taste
Steps:
1) Boil potatoes in lightly salted water for 40 minutes until they are very tender but not mushy. Drain the
potatoes and save the cooking liquid. Set the potatoes aside to cool.
2) Shred the cabbage. Chop onion.
3) Use the potato water (add more water if necessary to cover the vegetables) to boil the cabbage and onion
for about 10 minutes until softened. Drain the vegetables and set them aside.
4) When the potatoes are cool enough to handle, peel off the skin, place the potatoes in a bowl, add the milk
and margarine, and mash them until they are smooth.
5) Add the boiled cabbage, onion and salt and pepper to the potato mixture. Mix.
6) Transfer to a greased baking dish. Before serving, heat in a moderately hot oven (15 minutes at 350 degrees).
(All recipes from A Taste of Ireland: Irish Traditional Food, by Theodora Fitzgibbon)



Leave a Reply
You must be logged in to post a comment.