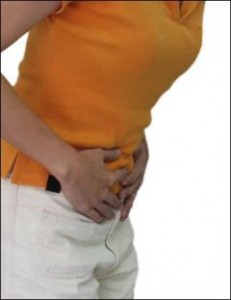 A new edition of The Intellectual Devotional, this time with a focus on Health, is coming to stores on October 16! (Click here to pre-order your copy.) As well as continuing to expand on posts from the General Edition, "The Devoted Intellect" blog will introduce and expand on material from the Modern Culture devotional. Today's entry on "Gastroenteritis" is from the "Children & Adolescents" section of the Health edition.
Gastroenteritis is caused by the inflammation of the gastrointestinal tract, involving both the stomach and the small intestine. It results in acute diarrhea that can lead to life-threatening dehydration in developing countries where there is limited access to fresh water. Gastroenteritis is usually caused by a viral infection (especially the rotavirus), but can also be caused by bacteria, parasites or an adverse reaction to food or medication. Viral gastroenteritis generally manifests itself with low-grade fever and vomiting, followed by copious watery diarrhea, with symptoms usually lasting between 3-8 days. In developed countries, noroviruses (which are the result of food borne contaminants) are responsible for 65-80% of all gastroenteritis outbreaks. In the developing world, rotavirus is the most prevalent viral pathogen, and is responsible for more that 50% of all gastroenteritis cases.
In the developed world, clean drinking water and adequate medical care have removed many of the potential risks associated with gastroenteritis, such as acute dehydration. As such, it is generally perceived to be an uncomfortable, albeit benign disease if it is properly treated. However, every year, rotavirus causes gastroenteritis in an estimated 111 million children under the age of 5 years old, and leads to nearly 1.8 million deaths (82% of these deaths occur in developing countries). Lack of potable water and poor sewage treatment has been the major cause of the spread of infectious gastroenteritis and the accompanying acute dehydration that can prove lethal if an infected person can be adequately rehydrated.
Thanks to the implementation of oral rehydration therapy, annual mortality rates have fallen significantly since 2000. Despite this improvement, the World Health Organization has made the development of a rotavirus vaccine one of their top priorities in their effort to curb global preventative deaths.



Leave a Reply
You must be logged in to post a comment.