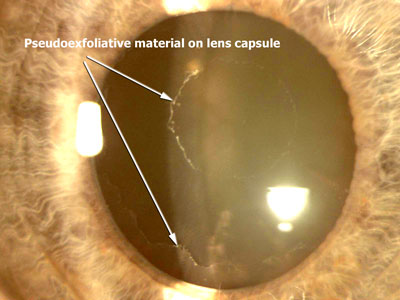 Pseudoexfoliation syndrome is an eye condition that is associated with two of the most common ocular diseases, cataracts (a clouding of the lens of the eye that affects vision) and glaucoma (a condition that refers to a group of disorders that affects the optic nerve). It is called pseudoexfoliation syndrome because it causes noticeable dandruff-like flaking on the anterior segment of the eye, including the lens. It has no known cause, and it usually affects both eyes (but can be asymmetrical).
Pseudoexfoliation syndrome can be differentiated from True exfoliation syndrome, which is caused by exposure to intense heat or infrared radiation, and is most typically seen in glass blowers. True exfoliation syndrome occurs when chronic heat exposure causes the capsule of the lens to become wrinkled and peeled, forming cataracts that can eventually develop into glaucoma if left untreated.
75% of people with pseudoexfoliation syndrome will eventually develop cataracts. However, surgery is not necessary until symptoms become uncomfortable for the patient. Moreover, between 15 and 20% of patients with pseudoexfoliation syndrome will eventually develop glaucoma. In these situations, the patient's intraocular pressures, visual fields and optic nerve changes must be closely monitored for deterioration. Topical medication, laser surgeries and filtering eye surgery may all be necessary to manage the increased intra-ocular pressure.



Leave a Reply
You must be logged in to post a comment.