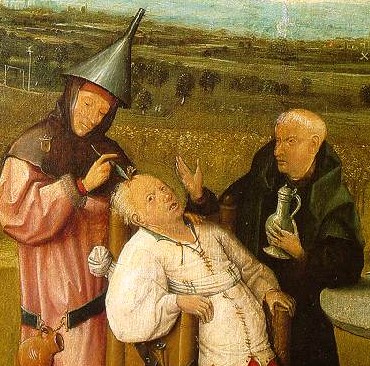 Trepanning, currently the oldest discovered surgical procedure, is an ancient medical practice in which a hole is drilled or scraped into the human skull, exposing the dura matter in order to relieve pressure in the skull. Evidence of trepanning has been found in prehistoric human remains dated to 6500 B.C., and archeologists believe that the practice was used to "treat" migraines, epilepsy and mental illness. It also may have been used as an emergency surgery following traumatic head wounds. Trepanation was also practiced in the classical and Renaissance periods, as a cure for various ailments, including seizures and skull fractures.
While modern advances in cranial surgery have made this rather gruesome practice obsolete in mainstream medicine, self-trepanation has been popular in some folk medical circles since the early 1960s. Dutchman Bart Hughes is widely considered the father of the contemporary self-trepanation movement, after he published the influential 1962 monograph, "Homo Sapiens Correctus." Hughes claimed, among other things, that trepanation increases "blood brain volume," thereby enhances cerebral metabolism. He asserted that consciousness is directly related to the volume of blood in your brain, and that babies have a higher state of consciousness because their skulls have not fully closed. Thus, by increasing brain blood volume, trepanation could boost energy levels and allow an adult to return to a childlike state of consciousness. While Hughes has amassed an impressive number of followers, it is worthwhile to note that he never finished medical school and no studies have been published in support of his claims.
Despite a complete lack of supporting evidence, some fringe alternative medicine enthusiasts continue to extol the virtues of self-trepanation. Incredibly, seemingly normal British painter Amanda Feilding performed a self-trepanation with a drill on camera in 1970 (her partner and fellow self-trepanation enthusiast Joey Mellen did the filming), for the film "Heartbeat in the Brain."
Prior to Feilding's on camera antics, Mellen had attempted self-trepanation with a drill on a number of occasions with (mostly) limited success. His first stab at it was a fiasco; he had no medical experience, and the needles he purchased for the purpose of administering anesthetic to the top of his weren't strong enough and ended up breaking. The next day Mellen purchased stronger needles, took a tab of LSD to calm his nerves, and actually managed to make some inroads into his skull. However, fully driving the spike into the bone proved impossible to accomplish without outside assistance.
Mellen sagely realized he needed some assistance and contacted Dr. Hughes in Amsterdam, who promised he would come to London to oversee Mellen's third attempted procedure. However, The British Home Office had listed Dr. Hughes as an "undesirable" visitor, and immigration officials subsequently barred his entry into the country.
Undeterred and impatient to get to drilling, Mellen decided that he would have a better chance of success if his girlfriend performed the trepanning for him. He again took a tab of LSD and Feilding went to work. After a respectably lengthy sawing, Mellen suddenly fainted from the blood loss and had to be rushed to the emergency room (where the doctors told him he was lucky to be alive).
Despite Mellen's drug-induced, self-inflicted brush with death, he remained undaunted, and was able to successfully "break through" his skull on his fourth attempt, if one considers drilling a hole in your own head a success. Sadly, most of the footage of Feilding's self-trepanation has been lost. However, those with a strong stomach can still see portions of the film in the aptly titled documentary, "A Hole in the Head."
According to friends of Joey and Amanda, they are still a happy couple, and the two of them co-own an art gallery. In fact, many of their old friends claim that they are markedly happier and better adjusted since their successful self-trepanation surgeries.



One Response to "Self-Trepanation: Only the Stupid and Brave Need Apply"



Weird but hey whatever works!
Leave a Reply
You must be logged in to post a comment.