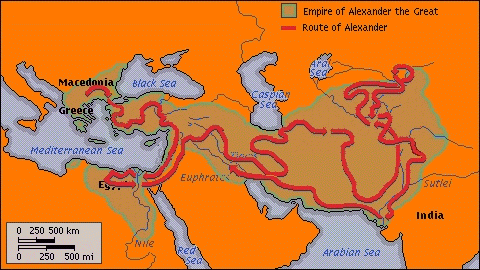 Hellenization is a term used to describe the spread of ancient Greek culture, population and language following the conquest of the Persian Empire by Alexander the Great. The resulting Hellenistic civilization is considered the peak of Greek influence in the ancient world, and lasted from 323 B.C. until 146 B.C. (or arguably as late as 30 B.C.). Hellenistic kingdoms were established throughout the Near and Middle East and ancient Egypt.
As a result of Hellenization, aspects of Greek culture hybridized with indigenous cultures- influencing the Assyrians, Jews, Egyptians, Persians and Armenians, to name a few-in various forms and to different degrees (local practices were often retained where beneficial, necessary or convenient). Hellenization also refers to the medieval Byzantine Empire and Constantine's founding of Constantinople. The cultural fusion that so marked the Hellenistic civilization represented a marked departure from the classical Greek attitude towards "barbarian" cultures.
Alexander made a concerted effort to introduce Greek elements into the territories he conquered and historians believed that he even aspired to homogenize Asian and European cultures. At his insistence, the use of the Athenian koine dialect became the lingua franca throughout the Hellenistic world. Moreover, city planning, education and local governments were modeled after classical Greek ideals. Hellenistic art and architecture reflected Greek influence and evolved into its own distinct style hybridized style. Aspects of Hellenistic culture remained influential in the traditions of the Byzantine Empire up until the mid-15th century.



Leave a Reply
You must be logged in to post a comment.