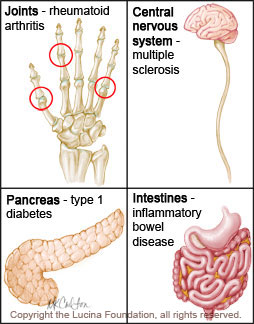 Autoimmunity is the failure of the body to recognize its own constituent parts as self, allowing an immune response against its own cells and tissues. Any disease that arises from this dysfunctional immune response is called an autoimmune disease, and includes Celiac disease, Type I diabetes and Lupus. The main function of the immune system in healthy individuals is to protect the body from disease and infection. However, in people with autoimmune disorders, their immune systems attack healthy cells by mistake as well. Autoimmune disorders tend to run in families and are more prevalent amongst certain ethnic groups. For example, women are more likely than men to suffer from autoimmune disorders, particularly women of African-American, Hispanic-American and Native-American descent.
There are well over 80 types of autoimmune diseases, and many have overlapping symptoms. The most commonly cited complaints amongst autoimmune disease sufferers are fatigue, low-grade fever and sore muscles. Autoimmune diseases can affect any part of your body, including the nerves, muscles, endocrine system and digestive system. The symptoms related to autoimmune diseases tend to wax and wane, sometimes going into remission. However, autoimmune diseases rarely resolve themselves completely. Since most autoimmune diseases are incurable, sufferers usually have to settle for treatment of only the symptoms.



Leave a Reply
You must be logged in to post a comment.