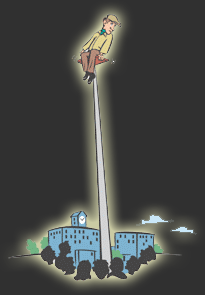 The rise of radio broadcasts and tabloid journalism in the 1920s fueled the emergence of national fads, such as dance marathons and mahjong. One of the most famous-albeit ridiculous-fads that became popular in the Roaring Twenties was Flagpole-sitting. Flagpole-sitting began when Alvin "Shipwreck" Kelly, a professional stuntman, sat on top of a flagpole for 13 hours and 13 minutes in 1924. On a later, widely publicized attempt, Kelly was able to spend 49 days on top of a flagpole in Atlantic City, New Jersey, a feat that catapulted him into the national spotlight. Suffice it to say, the heyday of the flagpole-sitting fad lasted from 1924 to 1929.
The origins of Pole-sitting can be traced back to the ancient ascetic discipline of Stylitism, or column-sitting. Famous column-sitters include St. Simeon Stylites the Elder of Antioch who sat on a column for 37 years. The flagpole sitting craze reached its peak in 1929 when Baltimore had at least 17 boys and 3 girls sitting on 18 foot hickory poles while their family and friends cheered them on The following year, 1930, Kelly's record was broken by Bill Penfield in Strawberry Point, Iowa who sat on a flag pole for 51 days and 20 hours, until a thunderstorm brought him down.
Daniel Baraniuk, from Gdańsk, Poland, sat on a 16-by-24-inch platform on an 8-foot pole for 196 days from May 15, 2002 to November 26, 2002. He had a ten minute break every 2 hours. Most impressively (and perhaps dubiously), H. David Werder claims that he sat on a pole for 439 days, 11 hours and six minutes to protest the high price of gasoline in the early 1980s.



Leave a Reply
You must be logged in to post a comment.