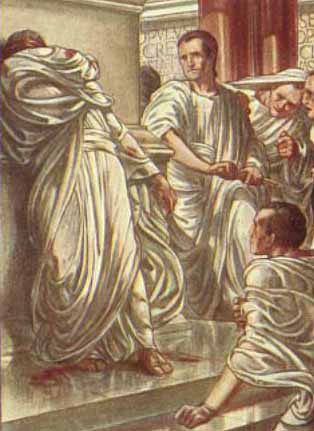 The Ides of March, or March 15th on the Roman calendar, was originally a festive day dedicated to the god Mars when a military parade was usually held in his honor. However, its significance was irrevocably altered after Julius Caesar was assassinated on this date in 44 B.C.; ever since then, the Ides of March has possessed a sense of foreboding. In modern times, the term "Ides of March" is most famously referenced in William Shakespeare's Julius Caesar when the soothsayer warns the skeptical Roman leader to, "beware the Ides of March."
The term Ides comes from the earliest Roman calendar, which was rather confusing by modern standards, to say the least. The Roman calendar organized its months around three days, each of which served as a reference point for counting the other days.
Kalends (1st day of the month)
Nones (the 7th day in March, May, July, and October; the 5th in the other months)
Ides (the 15th day in March, May, July, and October; the 13th in the other months)
The remaining, unnamed days of the month were identified by counting backwards from the Kalends, Nones, or the Ides.
However, the Ides of March permanently took on a new significance after Caesar was assassinated, and has come to mark the specific day of abrupt change that set off a domino effect that forever changed Roman society- even Cicero's letters after Caesar's murder quote him as saying, 'The Ides changed everything."



Leave a Reply
You must be logged in to post a comment.