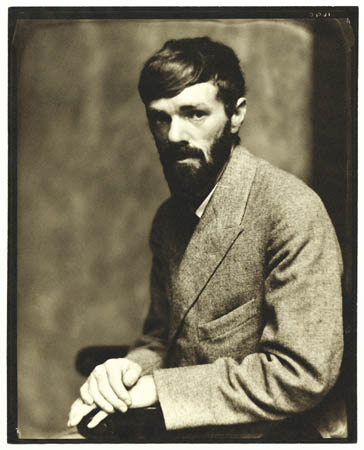 David Herbert Lawrence, better known as D.H. Lawrence, infamous novelist, short-story writer, poet and essayist, was born in Eastwood, Nottinghamshire on September 11, 1885. Eastwood was a coal mining town, and Lawrence's interest in Literature earned him a reputation as an eccentric from his fellow townsfolk. After finishing grammar school, Lawrence was given a scholarship to Nottingham High School, but he found school uninteresting and dropped out soon thereafter.
Encouraged by his friend and tutor Jessie Chambers, Lawrence began writing and teaching in 1905. However, in 1911, he quit teaching and scandalously eloped with Frieda Weekley, the German wife of one of his professors at Nottingham. The couple fled to Europe, where they were officially married in 1914 after Frieda's divorce was finalized.
Lawrence was a rebellious writer who openly explored the then-taboo issues of sexuality and class divisions. After he published his most famous novel in 1928, Lady Chatterley's Lover, his works became a continual source of controversy, due to his involvement in a number of widely-covered censorship cases. Sadly, Lawrence received little praise during his short lifetime, and he died of tuberculosis at the tender age of Forty-four.
Long after his death, the first uncensored publication of Lady Chatterley's Lover in the United States and Britain, is considered an important moment in the "sexual revolution." Famous British poet Philip Larkin's poem "Annus Mirabilis" even begins with a reference to the trial:
Sexual intercourse began
In nineteen sixty-three
(which was rather late for me) -
Between the end of the "Chatterley" ban
And The Beatles' first LP.



Leave a Reply
You must be logged in to post a comment.