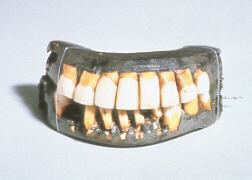 It is unsurprising that there are so many persistent myths, legends and lore about the life of George Washington, the Grand Poobah of America's Founding Fathers. Contrary to one of the most enduring myths about our first President, Washington never in fact owned a wooden set of teeth. However, there is always a grain of truth behind every myth, and Washington did in fact suffer from lifelong dental problems that forced him to rely on many sets of dentures during his lifetime.
Washington lost his teeth at a young age by today's standards, due in no small part to the primitive oral hygiene practices of the day and a long history of debilitating illnesses he described at length in his journals: a nasty case of smallpox in 1751; a bout of violent pleurisy the following year; severe headaches and dysentery in 1755; and a wretched outbreak of now-exotic "breakbone fever" (dengue fever) in 1761. This is not to mention the intermittent attacks of malaria, flu and chronic rheumatic complaints that he also endured over the ensuing years.
Thus, violent toothaches followed by the removal of said offending tooth were a yearly occurrence for Washington, until he finally had no teeth left. He wrote movingly about his battle with infected and abscessed teeth, inflamed gums, and the ill-fit of his first few sets of dentures. In fact, his chronic dental problems are often partially credited with exacerbating his legendary bad temper.
The most remarkable thing about the enduring legend of Washington's wooden teeth is the fact that the truth is so much more remarkable than the fiction: his favorite set of dentures (of which he had two pairs), crafted by Dr. John Greenwood (the most prominent American dentist of the day), were actually carved from HIPPOPOTAMUS ivory and pure gold!
One pair was lost long ago, but the other set was donated to the University of Maryland Dental School. The Dental school kindly loaned them to the Smithsonian in 1976 for a bicentennial exhibit, only to be punished for their generosity when they were mysteriously stolen from the Smithsonian's storage area. Sadly, they have never been recovered, and the culprit remains at large…..



Leave a Reply
You must be logged in to post a comment.