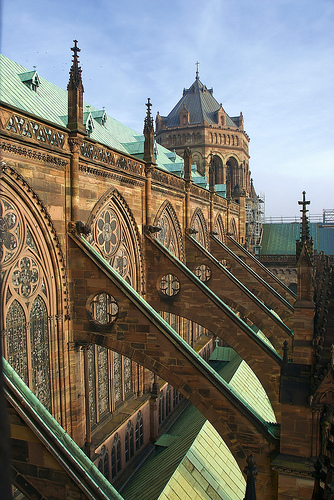 "At the moment when his thought was thus fixed upon the priest, while the daybreak was whitening the flying buttresses, he perceived on the highest story of Notre-Dame, at the angle formed by the external balustrade as it makes the turn of the chancel, a figure walking." –Victor Hugo, The Hunchback of Notre-Dame
Notre Dame de Paris, also known as Notre Dame Cathedral, is a Gothic, Roman Catholic cathedral which houses the Catholic archdiocese of Paris. It is widely cited as one of the finest examples of French Gothic architecture in Europe and is notable for its visually striking decorative flying buttresses. A buttress is a support- usually made of brick or stone-built against a wall to support and reinforce it. A flying buttress is a freestanding buttress attached to the main structure by an arch or a half-arch, and it is usually found on religious buildings, especially cathedrals. Flying buttresses transfer the thrust of the roof outwards, through the walls and across the intervening space to a counterweight outside the building. This architectural innovation paved the way for the construction of the soaring Gothic cathedrals associated with medieval Europe.
Even though flying buttresses are most commonly associated with Gothic architecture, the Byzantines were the first to use them. However, they were considered unsightly and were usually hidden under the roof or masked by other constructions. In 1150, prominent architects began to intentionally leave them exposed for aesthetic purposes, and they quickly became an important decorative feature in cathedrals throughout Europe.