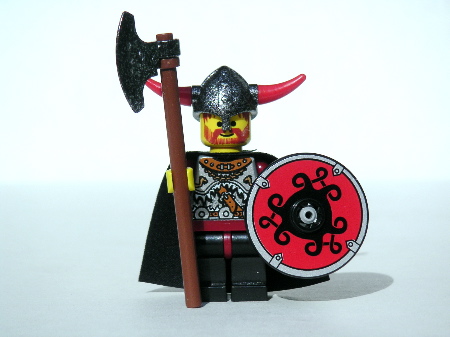 A new edition of The Intellectual Devotional, this time with a focus on Biographies, will be available online and in stores on May 11. As the release date approaches, "The Devoted Intellect" blog will introduce and expand on material from that book. Today's entry on "Erik the Red" draws from the "Villains" section of the Biographies edition.
Besides his overpoweringly red aura, The Viking explorer Eirikr rauði Þorvaldsson (more commonly known as Erik the Red (950–c. 1003)), is famous for founding the first Nordic settlement in Greenland. According to ancient lore, he was called "The Red" because of his flowing fiery red beard and hair (and perhaps in part because of his notoriously hot-headed and rapacious nature). According to the sagas, Erik's pugnacious father, Þorvaldr Ásvaldsson, was exiled from Norway in 960 AD as a result of 'a number of killings', and Erik's entire family was forced to relocate to Iceland. Apparently, the apple didn't fall far from the tree; in 982 Erik was sentenced to exile from Iceland for three years for murder, amongst other things. Fast running out of frigid and sparsely populated Nordic countries where the Red clan was welcome, Erik sailed west in search of a place where his reputation would not precede him. As luck would have it, he discovered Greenland.
Erik was immediately smitten with the stunning fjords and fertile green valleys of this vast and ruggedly beautiful land. Despite his ardor for his new homeland, Erik yearned for a little companionship. So he headed back to Iceland to spread the word of "The green land" that lurked just west of the horizon (false advertising is clearly nothing new- Greenland was indeed "green" at times, but it is also cold enough to make Iceland's climate feel comparatively tropical). Like many men who possess an unquenchable thirst for power, Erik's complete lack of moral compunction lent him extraordinary powers of persuasion. By 985 he had managed to convince a fleet of 25 ships, filled to capacity by some 500 men, women, children and domesticated animals, to set sail with him for a "better life" in the land of milk and honey that is NOT Greenland. Sadly, only 14 of the 25 ships that left Iceland actually made it to Greenland. Fortunately, there were enough survivors to start the unenviable task of eking out an existence in a new settlement.
It couldn't have been easy for Erik the Red's son, Leif Eriksson, to escape the wide shadow that was cast by his larger-than-life father. However, Leif proved to be a man to be reckoned with in his own right. Leif converted to Christianity while visiting Norway as a young man, and in the 1000 he decided to bring Christian missionaries to spread the word back home with him to Greenland. Soon thereafter, the first Christian church on the North American continent, Tjodhilde's Church, was built in Brattahlið.
By the year 1000 the Viking societies numbered some 3,000 inhabitants on 300-400 farms, and its inhabitants managed to survive for some 500 years. The reason for the disappearance of this fierce people remains a great mystery. Historians and archaeologists have hypothesized that anything from the difficulties engendered by the often-frigid climate, conflicts with the Inuit people, European pirates, overgrazing and/or bouts of plague could have led to the extinction of the Vikings.



Leave a Reply
You must be logged in to post a comment.