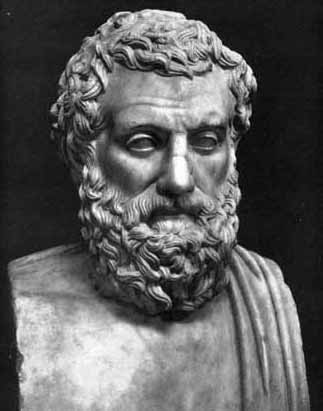 A new edition of The Intellectual Devotional, this time with a focus on Biographies, will be available online and in stores on May 11. As the release date approaches, "The Devoted Intellect" blog will introduce and expand on material from that book. Today's entry on "Aeschylus" draws from the "Authors and Artists" section of the Biographies edition.
The earliest of the three Greek tragedians whose plays have survived into modernity, Aeschylus is revered as the "Father of Tragedy" (the others being Sophocles and Euripides). Little is known about his life, but it is believed that he was born into a wealthy family in the small Greek city of Eleusis around the year 525 B.C. His father Euphorion was a member of the Eupatridae, the ancient nobility of Attica. As a youth, he worked at a vineyard until, according to the 2nd-century AD geographer Pausanias, the god Dionysus visited him in a dream and commanded him to turn his attention to the nascent art of tragedy. As soon as he woke from the dream, the young Aeschylus began writing feverishly, and his first play was performed in 499 BC, when he was a mere 26 years old.
The theater was still in its nascent state when Aeschylus first began writing his plays, with little in the way of character or plot development. In fact, most "plays" consisted of a few song and dance acts that might involve short vignettes with a single actor who portrayed one or more characters primarily by the use of masks. Aeschylus pioneered the use of multiple actors and actively incorporated the chorus into the action of the play. Even more impressively, Aeschylus directed many of his own productions, and urban legend has it that one of his performances actually induced a miscarriage in a theatergoer on account of his hyper-realistic and terrifying portrayal of the Furies.
Although historians estimate that Aeschylus wrote over ninety plays during his lifetime, only seven have survived the ravages of time. The most famous of these works, The Oresteia, is a trilogy that traces the bloody end of the curse on the House of Atreus. The trilogy consists of three sequential tragedies- Agamemnon, The Libation Bearers and the Eumenides- and won first prize when it was debuted at the Dionysia festival in Athens in 458 BC. Of its enduring appeal, esteemed German critic, philosopher and linguist William von Humboldt remarked of The Oresteia that, "[A]mong all the products of the Greek stage none can compare with it in tragic power; no other play shows the same intensity and pureness of belief in the divine and good; none can surpass the lessons it teaches, and the wisdom of which it is the mouthpiece."



Leave a Reply
You must be logged in to post a comment.