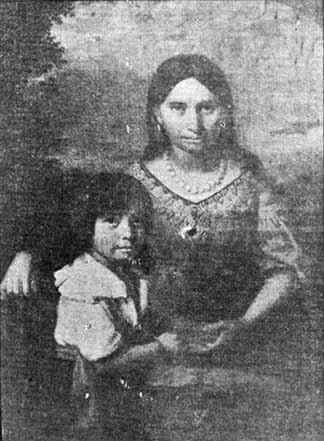 A new edition of The Intellectual Devotional, this time with a focus on Biographies, will be available online and in stores on May 11. (Click here to pre-order your copy.) As the release date approaches, "The Devoted Intellect" blog will introduce and expand on material from that book. Today's entry on "John Smith" draws from the "Authors and Artists" section of the Biographies edition.
Captain John Smith (c. January 1580 – June 21, 1631) Admiral of New England was an English soldier, explorer, and author. He is best remembered for his role in establishing the first permanent English settlement in North America at Jamestown, Virginia, and his vivid account of being rescued by Pocahontas, the young Indian girl who allegedly interceded during an altercation with the Powhatan Confederacy and her father, Chief Powhatan. He was a leader of the Virginia Colony (based at Jamestown) between September 1608 and August 1609, and led an exploration along the rivers of Virginia and the Chesapeake Bay.
The story begins when Smith and two English companions are ambushed by Indians. After killing his two companions, the Indians take Smith to their chief, Powhatan. After two months in captivity, Powhatan determines to have the Englishman clubbed to death in a ritual ceremony. According to Smith, the plan was thwarted only when the chief's daughter, Pocahontas (then aged 11 or 12), throws herself between him and his attackers causing her father to relent. Smith published his account of the incident in 1624. It is the only description of the event we have and some historians doubt its authenticity.
Another reason for believing the Pocahontas story is that such a ritual of sponsoring a nearly executed man in order to adopt him into the tribe was a typical Indian custom. Two examples illustrate the point: the daughter of Chief Ucita saved Juan Ortiz in 1528, and Milly, the daughter of the Seminole chief Hillis Hadj, performed a similar feat at some time. But was it just simply a ritual, or was Smith's life actually in danger? Since Smith's writings clearly indicate that he believed Pocahontas actually saved his life, it could not have been just a ritual unless either Smith lied, which we have shown to be improbable, or Pocahontas never corrected his error, which seems equally unlikely. Moreover, in the case of Chief Ucita's daughter, she apparently pleaded for Ortiz' life by arguing that he could do no harm since he was a Christian, an argument that makes no sense unless she were actually pleading for his life.
Either way, Smith's account permanently etched his name in American folklore.



Leave a Reply
You must be logged in to post a comment.