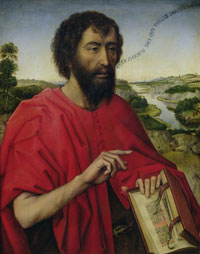 A new edition of The Intellectual Devotional, this time with a focus on Biographies, will be available online and in stores on May 11. (Click here to pre-order your copy.) As the release date approaches, "The Devoted Intellect" blog will introduce and expand on material from that book. Today's entry on "John the Baptist" draws from the "Prophets and Preachers" section of the Biographies edition.
John the Baptist was described as having sparse food and uncomfortable clothing, including the wearing of hairshirts. The description of John the Baptist has played an important role in the development of Christian monasticism, with John viewed as a model ascetic. However, Calvin wholly rejected this interpretation, seeing this description simply as an accurate portrait of anyone that was forced to live in the wilderness, and instead seeing John's holiness and popularity not because of his asceticism but despite it. Albright and Mann state that the description of John the Baptist's clothing is clearly meant to echo the similar description of Elijah in Kings.
John the Baptist's diet, which the Bible indicates was locusts and honey, has been the centre of much discussion. For many years it was traditional to interpret locust not as referring to the insect, but rather to the seed pods of the carob tree. Albright and Mann believe that this attempt to portray John the Baptist as eating seed pods was a combination of concern for having such a revered figure eating insects, and also a belief that a true ascetic should be completely vegetarian. In Greek the two words are very similar. Most scholars today conclude that this passage is referring to the insects, particularly since the other 22 times the word is used in the Bible it quite clearly refers to insects. Locusts are still commonly eaten in Arabia, and like many insects are quite nutritious. While most insects were considered unclean, Leviticus permits locusts. What is meant by "honey" is also a subject of some dispute. Aside from the obvious product of bees, scholars such as Jones believe that it refers to gum from the tamarisk tree, a tasteless but nutritional type of liquid.



Leave a Reply
You must be logged in to post a comment.