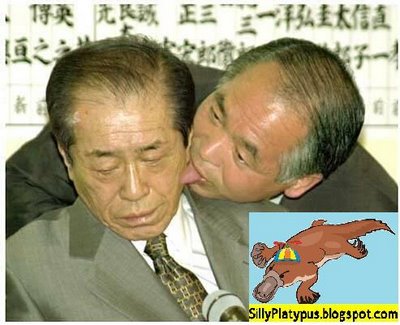 Compared to many countries in the world, Japanese society is not actively hostile towards homosexuals. Japan has no sodomy laws, and provides some legal protections for gay individuals (there are even some legal protections for transgender people). While national civil rights laws do not protect homosexuals from discrimination based on sexual orientation, some local governments have recently enacted such laws. For example, the government of Tokyo has passed laws that ban discrimination in employment based on sexual identity. Some simple minded pundits cite this as 'proof' that there is no discrimination against gays in Japan. This conclusion is overly optimistic, to say the least. In truth, Japan remains uneasy about how to relate to gay people, so their solution is not to do so.
Group identity is highly prioritized in Japan, and the concomitant emphasis on social conformity requires gay people to stay in the closet- at least for the time being. The lack of any legal sanctions — or legal protections — is just another aspect of invisibility of gay people in Japan. In Japanese culture, public and social shaming exacts a much stronger influence over the behavior of its citizens than any law ever could.
Thus, while most homosexuals in Japan seldom have reason to fear outright persecution, violence or legal action (As many Americans still do), most are terrified that they would be ostracized by their families and co-workers if they came out of the closet. Unsurprisingly, there aren't many people in Japanese public life- with a few notable exceptions- who have publicly announced that they are gay. Many gays are "selectively out" to a select group of sympathetic friends and family, but few gays are out of the closet all of the time.
Trapped in the closet and lacking cohesion, gays in Japan are a politically invisible group. Few gays in Japan have ever attended a gay rally, march or meeting, things are beginning to change (albeit at a glacial pace). A few intrepid activists are taking on the punitive age of consent laws that exist in some parts of the country, which dictate that the age of consent for same-sex sexual activity is higher than for opposite-sex sexual activity. On a whole, the major political parties express little public support for gay rights issues in Japan, and have little motivation to do so. It remains to be seen whether Japanese homosexuals will eventually feel compelled to reconcile the distinct divide between their public and private selves, or if they will continue to prefer the security of anonymity.



Leave a Reply
You must be logged in to post a comment.