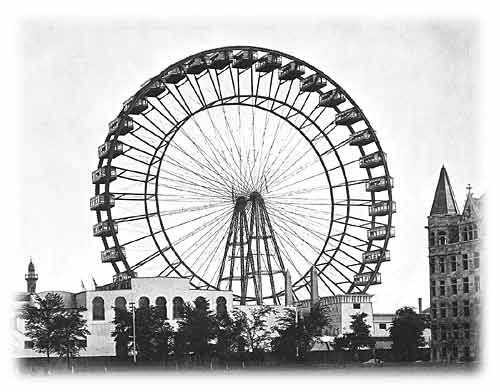 Image of the Chicago Ferris Wheel courtesy of The Hyde Park Historical Society.
In fourteen-hundred and ninety two, Columbus sailed the ocean blue. To commemorate the four-hundredth anniversary of the occasion, the United States government decided to a hold a World's Fair in Chicago in 1892 (it was dedicated in that year, and opened to the public a year later). A centerpiece of the fair was a new mechanical device. It was meant to one-up the "Eiffel Tower" that debuted in the Paris Fair in 1899, and showcase the mechanical prowess of America's engineers. Daniel H. Burnham, Construction Chief of the World's Fair, proposed the challenge to a group of in late 1890. One of those present took it up. His name was George Washington Gale Ferris, and his last name would become as synonymous with his mechanical marvel as Gustave Eiffel's has become with his.
The story of George Ferris' invention is brilliantly told by Patrick Meehan, and available for free at the Hyde Park Historical Society's website. Check it out!



Leave a Reply
You must be logged in to post a comment.