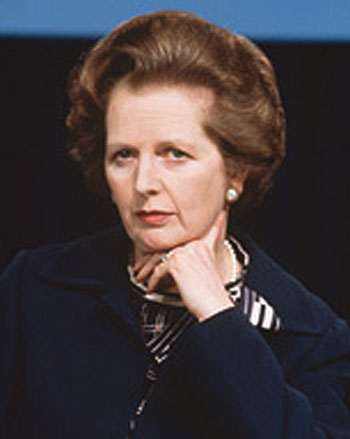 "I feel I have been accepted as a leader in the international sphere – the field in which they said I would never be accepted." – Margaret Thatcher after her first meeting with President Gerald Ford and Secretary of State, Henry Kissinger, 1975.
"If you want anything said, ask a man; if you want anything done, ask a woman" – Margaret Thatcher, 1965.
Prime Minister of England for 11 years, six months and 24 days (1979-90), Margaret Thatcher holds the distinction of being both the first female head of state in Europe and the longest-serving head of government in Britain in the 20th century. Perhaps more impressively, she has inspired more admiration, disapproval, support and opposition than any other British politician in recent history.
Variously referred to as, 'Atilla the Hen', 'The Blessed Margaret', 'The Iron Lady' and 'The handbagger' by the British public, Thatcher was not afraid to court controversy in the service of pushing her political agenda. She ushered in an era of painful reform, privatization, deregulation and tax cutting. At first inflation and unemployment rocketed, and many businesses were driven bankrupt by her tough economic policies. However,—"the lady's not for turning"— and her resolve eventually jump-started the ailing British economy of the 1970s.
Thatcher is famous for her Herculean work ethic: she allegedly only slept four hours a night, mastered dense briefs in minute detail and was wholly intolerant of "woolly" thinking. In fact, her ambition was such that she took elocution lessons during her childhood, because, she said, "One's voice is so important".
Those elocution lessons certainly paid off: Margaret Thatcher's speeches were released as a Three Disc box set in 2004, and proved to be a chart-topping hit. The Compilation, called "Margaret Thatcher: The Great Speeches," includes many of her "serious" speeches and some "bonus material", including the former premier's appearance in a Yes Minister sketch and the mixing of her words to acid house music…



Leave a Reply
You must be logged in to post a comment.