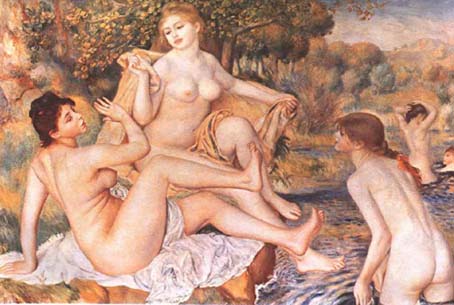 "Why shouldn't art be pretty? There are enough unpleasant things in the world." – Pierre-Auguste Renoir.
Pierre-Auguste Renoir (1841 –1919) was French painter originally associated with the Impressionist movement, along with his friends Claude Monet, Alfred Sisley, and Frédéric Bazille. His early works were typically Impressionist snapshots of bucolic landscapes, full of sparkling color and light. However, by the mid-1880s, he had broken with the movement to apply a more disciplined, formal technique to portraits and figure paintings, particularly of women (e.g., Bathers, 1884-87).
Renoir is perhaps the best-loved of all the Impressionists, for his subjects—pretty children, flowers, beautiful scenes, above all lovely women. His paintings are accessible and are instantly appealing, and he communicated the joy he took in them with unfussy directness. Along with every other heterosexual man on the planet, Renoir worshipped the female form, and many of his works feature dewy nude subjects. In fact, he once famously quipped, "I never think I have finished a nude until I think I could pinch it".
One of his sons was the celebrated film director Jean Renoir (1894-1979), who wrote a lively and touching biography, "Renoir, My Father" in 1962.



Leave a Reply
You must be logged in to post a comment.