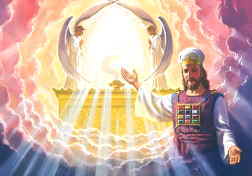 "I waited all Tuesday [October 22] and dear Jesus did not come;– I waited all the forenoon of Wednesday, and was well in body as I ever was, but after 12 o'clock I began to feel faint, and before dark I needed someone to help me up to my chamber, as my natural strength was leaving me very fast, and I lay prostrate for 2 days without any pain– sick with disappointment." – Henry Emmons, an idiotic 'Millerite' who was actually bummed that the world did not end in 1843.
William Miller (1782–1849) was an American Baptist preacher, who is credited with the beginning of the Adventism movement of the 1830s and 1840s in North America. A former captain in the War of 1812, Miller converted from Deism in 1816. Obsessed with discovering 'the truth' behind Biblical prophesies of the apocalypse, Miller devoted himself to studying scripture in the hopes that he could determine the date of the 'Second Coming'.
After poring over Biblical scripture for two years, Miller reached the conclusion that the world was going to end in 1843. He based his calculations on Daniel 8:14: "Unto two thousand and three hundred days; then shall the sanctuary be cleansed", Miller interpreted the cleansing of the sanctuary as an allusion to the Earth's purification by fire that was believed to be concomitant with Christ's Second Coming. Why? Because the Bible says so, that's why!
After engaging in some serious mental jujitsu, Miller and his followers determined that a day in prophecy was actually a calendar year instead of a 24-hour period. Further, Miller became convinced that said 2,300 "day" period began tolling in 457 B.C., when Artaxerxes I of Persia decreed the rebuilding of Jerusalem. Now you do the math….
Despite the urging of his supporters, Miller never personally announced an exact date for the expected Second Advent. A more specific date, October 22, 1844, was preached by fellow believer and rival prophet Samuel S. Snow. Although thousands of followers, some of whom had given away all of their possessions, awaited expectantly, Jesus did not appear as expected on the appointed day and as a result October 22, 1844, became known as "The Great Disappointment".
Following the failure of the World to end as promised, thousands of disappointed Millerites attempted to regain control of the property and possessions that they had so generously given away to their eternally damned neighbors. Many of them even argued in court that they had been temporarily insane during the months leading up to the Advent. Suffice to say, 'The Great Disappointment" cost Miller the lion's share of his followers.
Undeterred, Miller faithfully continued to wait for the second coming of Jesus Christ until his death in 1849.



Leave a Reply
You must be logged in to post a comment.