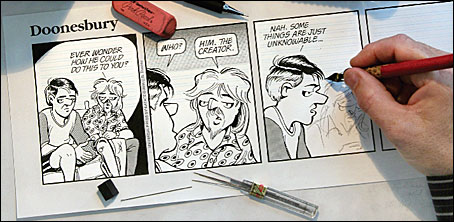 Gary Trudeau, the undisputed cream of the "controversial cartoonist" crop, first published his Sunday cartoon strip "Doonesbury" in 1972. The strip follows the ups and downs of a diverse group of characters of various ages, professions and backgrounds, from the President of the United States to the title character, Michael Doonesbury, a middle-aged, remarried father. The name "Doonesbury" is a combination of the word doone (prep school slang for "someone who is out to lunch") and the surname of Charles Pillsbury, Trudeau's roommate at Yale University.
Frequently political in nature, "Doonesbury" has been harshly criticized from the get-go by conservatives on account of its unabashedly liberal outlook. Not one to pull his punches, Trudeau's column began attracting the ire of conservative folks shortly after it began running in "The Abilene Reporter-News".
In an early controversy, Trudeau's permanently blissed-out hippie, Zonker, was asked to entertain a boy at a daycare center. He obliged with the tale of a "gentle freak named Douglas" whose kindness to rabbits was rewarded with a weekend in Nirvana. There, the gods gave him "his weight in fine, uncut hashish."
As soon as the strip appeared, complaints poured in by the truckload.
Shell-shocked by the vitriolic response engendered by the episode, the editor of "The Abilene Reporter-News" wrote, "I have seldom experienced such an angry reaction on anything in my 20 years as the chief editorial executive of this newspaper." Only a year or so later, Trudeau cemented his fame (and notoriety) in a 1973 strip, which declared that Watergate conspirator John Mitchell was "Guilty, guilty, guilty!!".
"Doonesbury" continued to push the buttons of uptight types throughout the '70s and early'80s: his characters "come out of the closet", commit adultery, and unashamedly consume illegal drugs and copious amounts of alcohol. In 1975, the Editorial Cartoonists' Society passed a resolution condemning the Pulitzer Prize committee's decision to award Trudeau the prize for Editorial Cartooning, despite the fact that it was the first time that a cartoonist had won the prestigious award. After confirming that the award could not be revoked, Trudeau famously (and mockingly) supported the resolution. In a famous 1985 incident, the distributors of "Doonesbury" begged Trudeau to withdraw an episode that eviscerated the anti-abortion film "Silent Scream." True to form, Trudeau shrugged off the entreaty and published it in "The New Republic" instead.
These episodes burnished Trudeau's reputation and built his audience; for every editor who refused to run them, another two picked up the strip. Sometimes the figure being satirized even issued an angry public rebuttal. The original George Bush, in his vice presidential days, declared that "the American people are going to be speaking out, and we'll see whether they side with Doonesbury or the Reagan-Bush message."
Impressively, Trudeau's inkwell has still not run dry: "Doonesbury" is currently syndicated in approximately 1,400 newspapers worldwide.



Leave a Reply
You must be logged in to post a comment.