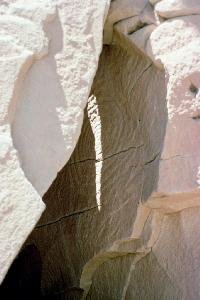 The famous Sun Dagger site, on Fajada Butte was discovered and named by Anna Sofaer in 1977.
This phenomenon consists of a dynamic interplay of solstice and equinox sunlight on rock petroglyphs resulting in a solar calendar. Fajada Butte, large butte standing 135m(443 feet) above the ground at the south entrance to the Chaco Canyon, has a series of parallel sandstone slabs reaching 3 meters in height, which serve as the stage for this performance of light on art. On the rock cliff face is carved a large spiral petroglyph, and next to it on the left is a smaller one which some consider a coiled snake petroglyph.
During the period 900-1130 AD, the Chacoan culture built numerous multistoried buildings and extensive roads throughout the 80,000 sq km of the San Juan Basin of northwestern New Mexico. Chaco Canyon was the center of the culture. Recent archaeological interpretations suggest that several of the large central buildings, including Pueblo Bonito, were used primarily for ceremony and that Chaco Canyon served as a ceremonial center for outlying Chacoan communities.
Its secret was lost around 1250 AD, when the ancient people abandoned Chaco Canyon. Then in 1979, an artist was studying petroglyph art at Chaco when she noticed that a slender beam of sunlight passing between two rock monoliths bisected the center of a spiral-shaped symbol on the exact day of the summer solstice.
At the summer solstice, the center of the large spiral is bisected by a vertical shaft. The process is as such:
11am Local Solar Time (lst)- Light spot appears above spiral, lengthening downwards into a narrow downward pointing dagger shape of light.
11.05 am lst – The dagger grows and moves down as the sun moves up.
11.15am lst – The dagger bisects the upper half of the spiral sharply. The overhang above the petroglyphs casts a shadow on the slabs forming a defined dagger shape.
11.18am lst – The dagger is now moving down the lower half of the spiral without changing shape.
11.20am lst – The light dagger has slipped off the cliff face.



Leave a Reply
You must be logged in to post a comment.