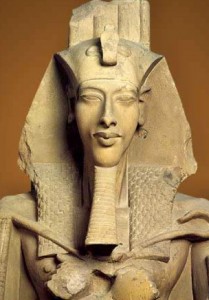 Known as "The Heretic Pharaoh", Akhenaten not only led a reform on the Ancient Egyptian religion, he also revolutionized Egyptian art. He broke the conventions of Egyptian art by showing himself in warm family scenes with his wife and children, in a much more human and naturalistic manner than any of his predecessors had. Unlike most pharaohs, Akhenaten portrayed himself less like a god and more like a human.
The most peculiar result of this art reform, however, was the portrayal of the physical characteristics of the pharaoh himself. In sculptures and paintings of Akhenaten, he is shown as having a long, slender neck, a long face with a sharp chin, narrow, almond-shaped eyes, full lips, long arms and fingers, rounded thighs and buttocks, a soft belly, and enlarged breasts. His odd appearance was particularly prominent in art from the early part of the reign. One early statue portrays the king in the nude and without genitalia of any kind. He looked more feminine then masculine.
These features have puzzled archaeologists since Akhenaten was first discovered in the early nineteenth century, and people have offered many explanations as to why he looked this way.
One of the early theories was that Akhenaten was actually a woman disguised as a man, and was following in Queen Hatshepsut's footsteps, but this idea has been abandoned. The theory that is most in favor at this time is that Akhenaten suffered from some kind of illness or syndrome, which caused his odd appearance.



Leave a Reply
You must be logged in to post a comment.