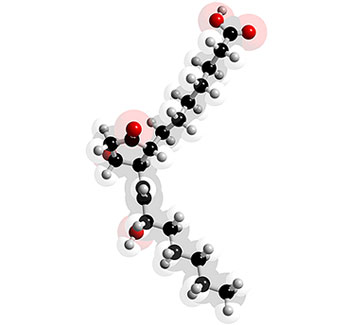 Prostaglandins are a group any naturally occurring, chemically related fatty acids that stimulate contractility of the uterine and other smooth muscle and are able to lower blood pressure, regulate acid secretion of the stomach, regulate body temperature and platelet aggregation, and control inflammation and vascular permeability. They are mediators and have a variety of strong physiological effects, and they also affect the action of certain hormones.
Prostaglandins have a variety of physiological effects including:
1. Activation of the inflammatory response, production of pain, and fever. When tissues are damaged, white blood cells flood to the site to try to minimize tissue destruction. Prostaglandins are produced as a result.
2. Blood clots form when a blood vessel is damaged. A type of prostaglandin called thromboxane stimulates constriction and clotting of platelets. Conversely, PGI2, is produced to have the opposite effect on the walls of blood vessels where clots should not be forming.
3. Certain prostaglandins are involved with the induction of labor and other reproductive processes. PGE2 causes uterine contractions and has been used to induce labor.
4. Prostaglandins are involved in several other organs such as the gastrointestinal tract (inhibit acid synthesis and increase secretion of protective mucus), increase blood flow in kidneys, and leukotriens promote constriction of bronchi associated with asthma.
Prostaglandins differ from hormones in that they are not produced at a discrete site but in many places throughout the human body. Also, their target cells are present in the immediate vicinity of the site of their excretion (of which there are many).



Leave a Reply
You must be logged in to post a comment.