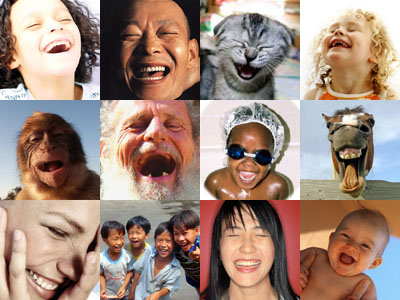 "I am thankful for laughter, except when milk comes out of my nose." ~Woody Allen
Why do we laugh when we think something is funny? And what exactly is laughter anyway? Despite it's universality, laughter is actually really hard to define. Even the people at Merriam-Webster seem to have thrown in the towel, lamely defining "laughter" as:
1. the action of laughing or the sound resulting
2. an indication of amusement: with laughter in her eyes
3. Archaic a matter for or cause of laughter.
The element of surprise is crucial in eliciting laughter, as well as a sense of contrast. When the brain receives an appropriate stimulus, it sets laughter in motion. More than a hundred muscles are involved in laughing, from facial muscles to respiratory muscles, and is anatomically triggered by the epiglottis constricting the larynx.
It is also a primitive mechanism all humans are born with. Babies have the ability to laugh before they ever speak- researchers have even shown that infants as early as 17 days old have vocal laughing sounds or laughter. Even children who are born blind and deaf still retain the ability to laugh. It is a part of human behavior regulated by the brain, helping humans clarify their intentions in social interaction and providing an emotional context to conversations.
Laughter is sometimes seen as contagious, and the laughter of one person can itself provoke laughter from others as a positive feedback. In fact, the "contagious" factor accounts for the unfortunate popularity of laugh tracks amongst television sitcom producers, who will do just about anything to make their audience laugh.



Leave a Reply
You must be logged in to post a comment.