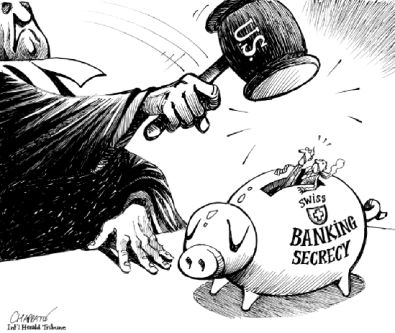 Fondue. Watches. Chocolate. Army Knives. Ricola. Neutrality. Chocolate. Banking. Chocolate. This is pretty impressive for a tiny, landlocked country that is dwarfed by its larger and more densely populated neighbors. Despite these relative disadvantages, Switzerland has managed to become one of the world's wealthiest countries, largely through its banking industry. This can partially be attributed to its central geographical position in Europe, as well as its unwavering position of studious neutrality, which has given it the access and political stability to inspire trust in the banking industry. However, there is another reason that Swiss banking has been so successful-namely, its strict adherence to bank secrecy for its account holders.
Swiss bank secrecy has had a long history in Switzerland, dating back over 300 years. It all started when French kings began to safeguard their loot by stashing it in nearby Switzerland. Unsurprisingly, these regents demanded absolute secrecy and possessed the volume of funds to request pretty much anything they wanted. Plus, kings could always afford to pay back their loans. Thus began Switzerland's long reputation as a safe haven for funds for noblemen fleeing the Revolution and others seeking financial asylum.
The protections afforded under Swiss law are similar to confidentiality protections between doctors and patients or lawyers and their clients. But with secrecy comes abuse, and the country has come under fire for enabling dictators, tax evasion, criminals and money laundering, to name a few.
The most damning allegations stem from its actions towards Jewish account holders after World War II, and because the spoils that German Nazis plundered from defeated countries and their prisoners was held in Swiss banks. According to a report by Stuart Eizenstat on Nazi theft of Jewish assets, during WWII "between January 1939 and June 30, 1945, Germany transferred gold worth around $400 million ($3.9 billion in today's values) to the Swiss National Bank in Bern." It is believed that much of this gold was stolen from Jews and sent to Switzerland to be melted down and used to finance the war.
For better or for worse, a Swiss bank account no longer offers the ironclad protection it used to. Embarrassed by its image as the banker of choice for Third World tyrants and organized criminals, over the past decade Switzerland has introduced a raft of legislation designed to clean up its status as a financial haven, including anti-money-laundering laws that are among the toughest anywhere. Most recently, Switzerland put its money where its mouth is and froze all of Mubarak's assets that were held in the country. Phew!



Leave a Reply
You must be logged in to post a comment.