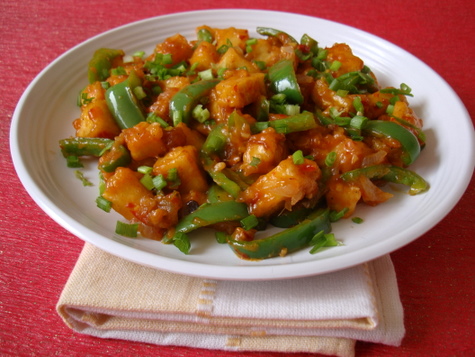 About 85 years ago, the Indian culinary world was affected by a new cuisine. The first Indo Chinese restaurant Eau Chew opened in Kolkata. New restaurants mushroomed all over Kolkata, and legends like Fat Mama and Kim Fa were born, offering newer dishes with fancier combinations and names like August Moon Rolls and Fiery Dragon Chicken. Indian Chinese cuisine involves a different cooking style than traditional Chinese food. They use a lot of red and green chilies, coriander, peppercorn and garam masala. The end result has got to be spicier dish with a heavy flavor. Before you knew it 'Indian Chinese' had tickled the taste buds of folk in every small town and city across India. No small feat for a foreign cuisine.
Indian Chinese food is now readily available in major metropolitan areas of India such as Mumbai, Chennai, Hyderabad, Delhi, Kolkata and Bangalore. It is also available in a number of towns and on dhabas (roadside stalls) adjacent to major Indian roads and highways. Many restaurants have a Chinese section in their menus, and some are even dedicated to serving Indian Chinese food. It can also be found in the mobile kitchen carts that ply the streets of cities, prepared in woks over a portable gas burner. Manchurian sauce, Szechwan sauce, soy sauce and Hakka noodles are available in many stores in cities across. National franchises like Yo! China, Mainland China, Hakka etc. are also making an entry into the more sanitized segment of the market.
So what is it that makes Chinese food so spectacularly popular? The answer lies with Indian food. Quick to figure out that Indians love spicy, oily preparations, the Chinese simply masala-fied and greased their cuisine into a glutinous, winning combination.