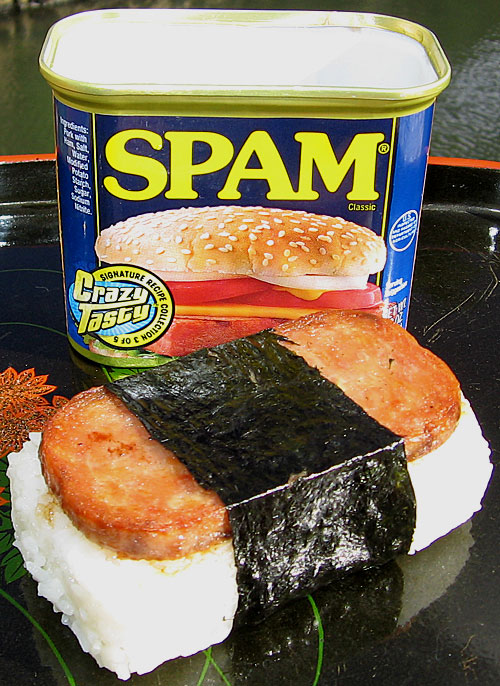 Contrary to the wishful thinking of many mainlanders, Hawaii is no longer populated by lei bedecked hula dancers shimmying their way to the nearest luau. In fact, with the exception of cheesy hotel-hosted luau's, there is nary a suckling pig in sight. However, this does not mean that Hawaiians have abandoned their passion for all things porcine. Their taste for traife has simply evolved (or devolved) into a peerless love for SPAM®. In fact, Hawaiians love the grayish pink canned pork loaf to the tune of 6 million cans of SPAM® a year, the nation's highest per capita consumption of the processed meat.
After World War II, Post-Traumatic SPAM® Disorder was so severe on the mainland that the once noble pork product was abandoned by the upwardly mobile middle-class in droves. Eventually, the only people still eating SPAM® were too poor to have much say in the matter. Even college kids avoided "the other pink meat" out of principle, relying on Hot Pockets, Mac N' Cheese and Ramen noodles to meet their nutritional needs.
The principle explanation for why SPAM® is popular in Hawaii is that is portable, durable meat that does not require any type of refrigeration. It was first introduced during WWII by American soldiers to Hawaiian natives, who quickly adopted it as an important part of their diet.
Moreover, the Asian influence on traditional Hawaiian cuisine cannot be understated, and SPAM® happened to work well with Asian dishes. It's not very different from the salted pork used in many Asian foods, so it became a reliable substitute for fresher and non-canned alternatives. The resulting Asian-SPAM® fusion has given birth to some unusual dishes, including the much beloved SPAM® musubi. A riff on a traditional Japanese rice ball, it is prepared with a brick of rice (shaped in the SPAM® can), topped with a slab of said SPAM® and wrapped in a bit of nori to hold the thing together.
As much as Native Hawaiians are happy with the SPAM® /suckling pig swap, privileging convenience over quality has proven to be a Faustian bargain. As traditional dishes have been abandoned in favor of processed food, the Native Hawaiians have become increasingly unhealthy, suffering from alarmingly high rates of obesity, diabetes and heart disease. The number of Hawaiian children suffering from obesity is double that of children throughout the nation. To make matters worse, Native Hawaiians are over 5 times as likely as non- Hawaiians to experience diabetes between the ages of 19 to 35 (11% vs. 2%). Between age 36 and 64, Native Hawaiians have a rate of diabetes that is over twice that of other populations (79 vs. 34 per 1000).
My sage advice to the people of Hawaii—dust off that old grass skirt, start hula dancing off the heft and bring back the locavore luau!