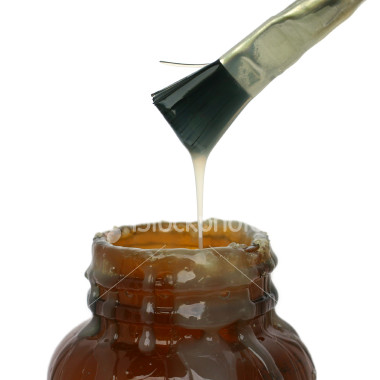 Rubber cement is a versatile adhesive made from latex polymers mixed in acetone or other solvents. Paul Van Cleef invented the adhesive for use in the Van Cleef Brothers factory in Chicago, Illinois in the early 1900s. It is part of the class of drying adhesives: as the solvents quickly evaporate, the "rubber" portion remains behind, forming a strong yet flexible bond. Often a small percentage of alcohol is added to the mix. Alcohol does not pose a problem, but acetone – a solvent widely used in nail polish removers – does irreparable damage on polished surfaces and many plastics.
Most brands of rubber cement available for purchase today have the same basic formula, although many manufacturers made slight adjustments after learning that the benzene in rubber cement could be linked to the development of certain cancers. However, the solvents used in rubber cement still present many hazards, such as potential of abuse as inhalants and fire. For this reason, as with any adhesive, rubber cement should be used in an open area, and care needs be taken to avoid heat sources such as n-heptane and n-hexane are highly flammable.
Kids have known for ages that sniffing rubber cement can make you a little high, and it has the potential for abuse as an inhalant. When the fumes from rubber cement are inhaled on a regular basis, they produce effects that are similar to the result of alcohol consumption. However, the effects of huffing or sniffing this glue can include brain damage, cardiac arrest, dizziness, hallucinations, and serious heart or lung problems. It also kills a zillion brain cells.