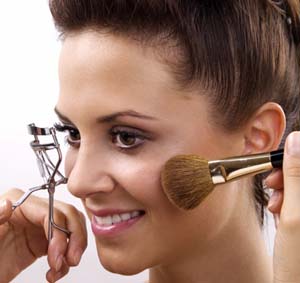 The U.S. Food and Drug Administration (FDA) which regulates cosmetics in the United States defines cosmetics as: "intended to be applied to the human body for cleansing, beautifying, promoting attractiveness, or altering the appearance without affecting the body's structure or functions." Interestingly, the definition of cosmetics really hasn't changed much since its first usage in Egypt around 3500 BC, but (luckily) the ingredients certainly have.
Besides the Egyptians, the ancient Greeks and Romans also used cosmetics. The Romans and Ancient Egyptians used cosmetics containing poisonous mercury and often lead. The ancient kingdom of Israel was influenced by cosmetics as recorded in the Old Testament—2 Kings 9:30 where Jezebel painted her eyelids—approximately 840 BC. The Biblical book of Esther describes various beauty treatments as well. Women have used burnt matches to darken their eyes, berries to stain their lips and young boys' urine to fade their freckles. They even swallowed ox blood in some misguided attempt to improve their complexions.
However, they have also put their health at risk with many of their homemade cosmetics. In some cultures, for example, women used arsenic, lead, mercury, and even leeches to give themselves the pale appearance deemed beautiful in the old days. A popular fad for women during the Middle Ages was to have a pale-skinned complexion, which was achieved through either applying pastes of lead, chalk, or flour, or by bloodletting. Women would also put white lead pigment that was known as "ceruse" on their faces to appear to have pale skin. Thankfully, we've come a long way from the days of using toxic and deadly mixtures to enhance our looks. But it makes you wonder if all of the products we slather on our faces on a daily basis are as benign as we think they are.