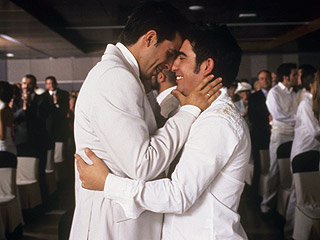 "Today, Spanish society is responding to a group of people who have been humiliated, whose rights have been ignored, their dignity offended, their identity denied and their freedom restricted," – Spanish Prime Minister José Luis Rodíguez Zapatero.
On July 3, 2005, Spain became the third nation in the world to eliminate all legal distinctions between same-sex and heterosexual unions. In 2004, the nation's newly elected Socialist government, led by the nation's progressive Prime Minister José Luis Rodríguez Zapatero, began a campaign pushing for its legalization, including the right for same-sex couples to adopt. However, unlike its famously liberal predecessors, Holland and Belgium, the ratification of this law did not go unopposed, especially amongst Roman Catholic authorities.
Despite support for the law from some 66% of the population, the Roman Catholic Church continues to be an extremely powerful force in Spain. Many prominent Catholic leaders spoke out against the proposed law, claiming that it weakened the institution of marriage and potentially imperiled the morals of children. Shortly after the preliminary vote in April, the archbishop of Barcelona, Cardinal Ricard María Carlés Gordó, even went so far as to compare government workers that opposed the law but were willing to enforce it to the Nazis at Auschwitz, who "believed that they had to obey the laws of the Nazi government before their own conscience."
Demonstrations for and against the law drew thousands of people from all parts of Spain. The day that the vote was held, Prime Minister Zapatero unexpectedly took the floor of parliament with a rousing speech in support of the measure, stating that ratifying the law would, "expand the opportunities for happiness of our neighbors, our colleagues, our friends and our relatives," he said. "At the same time, we are building a more decent society."
Impressively, the Spanish measure simply adds one sentence to existing law: "Marriage will have the same requirements and results when the two people entering into the contract are of the same sex or of different sexes." The laws in Holland and Belgium, by contrast, create a separate category of rights for same-sex couples, which fall just short of full equality on issues like adoption. Only the Canadian same-sex marriage law (passed seventeen days later) is comparably comprehensive.