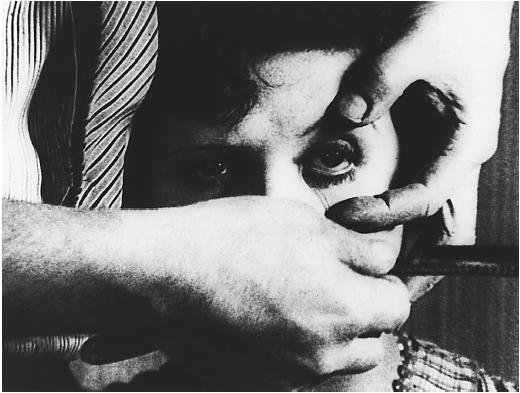 Un Chien adalou ("An Andalusian Dog") is a sixteen-minute surrealist short film produced by film director Luis Bunuel and the artist Salvador Dali in 1929. The film has no plot to speak of, and there are no transitions between any of the scenes. However, the movie contains some of the most arresting images ever filed, including a graphic scene in which a straight razor blade is plunged into a woman's pupil. Un Chien adalou was Bunuel's first film and was initially only shown to small audiences in Paris; however, it soon became extremely popular and ended up having a successful eight month run in French movie theaters.
The chronology in the film is disjointed, and employs the use of "dream logic," jumping from "once upon a time" to "sixteen years later" in a series of tenuously related scenes. The narrative flow of the movie was meant to mimic the concept of "free association," recently popularized by the psychological theories of Sigmund Freud. Eternal themes such as life, death, love and lust are woven through the disjointed scenes, but there is no framework through which one can contextualize the imagery.
Un Chien adalou was designed to startle its audience, and it impressively manages to achieve this feat some 70 years later. For such a short film, it has had an impressive artistic legacy; film scholar Ken Dancyger has convincingly argued that Un chien andalou is the progenitor of the music video genre, which became extremely popular in the 1980s. Premiere magazine ranked the opening scene the 10th most shocking moment in movie history, and David Bowie famously had this movie open for all of his concerts during his 1976 World Tour. He declared that the movie was used in order to "set the tone for the evening." Most recently, the film within the film in the popular horror movie The Ring was strongly influenced by Un Chien adalou.